Home Staging | Complimentary Home Staging
Cross Capital Realty offers free home staging with listing.
We Offer FREE Staging, awesome sources of marketing (listing website, social media, email campaigns, pre-marketing, and so much more), and go all out for open houses. We love what we do and doing it very well!
Every Client and home is unique We offer flexible and customized services to position & sell for the highest value in today's market.
---
Did you know that staged homes sell faster and for more money? Staging has been proven to be the most effective tool in selling a home; and buyers expect to see homes that are well presented. In today's market it is an absolute must for every seller in all price ranges to stage their home in order to achieve the highest sales price. What's more, it's crucial to never put a home on the market that is completely vacant. Rooms look smaller when they are empty and flaws are more noticeable when there are not furnishings in a home. Allow our agents to help you stage your home and fetch the highest asking price. Don't leave money on the table when we can do the staging for you!
STAGING: INCREASING THE INTERIOR VALUE OF YOUR HOME!
- Staged homes sell faster and for more money
- Distract from imperfections of the home
- Staged homes appear larger
- For buyers it is easier to visualize the property as a future home
- Buyers are more willing to walk through a home they viewed online
- Will positively impact the value of the home if it is decorated
- Staged homes have an increase in percent dollar value
- Staged homes report more showings
---
REALTORS® Represent: Seller Side
Percent Change In The Dollar Value Buyer Is Willing To Offer For A Staged Home Compared To Similar Home: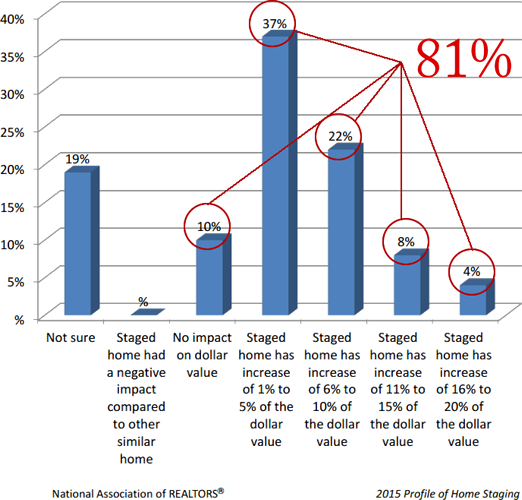 ---
REALTORS® Represent: Buyer Side
Most Likely To Be Impacted By Viewing A Staged Home: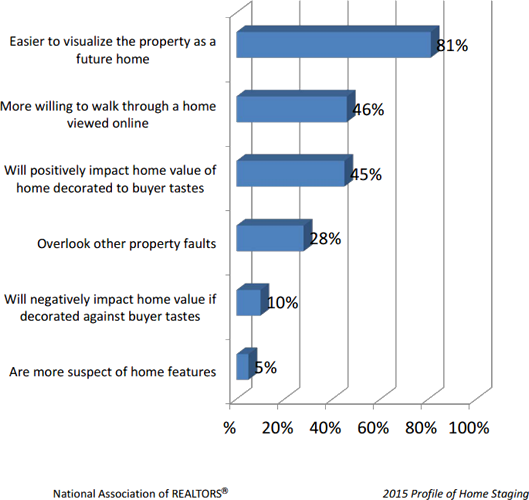 ---
REALTORS® Represent: Buyer Side
Percent Change In The Dollar Value Buyer Is Willing To Offer For A Staged Home Compared To Similar Home: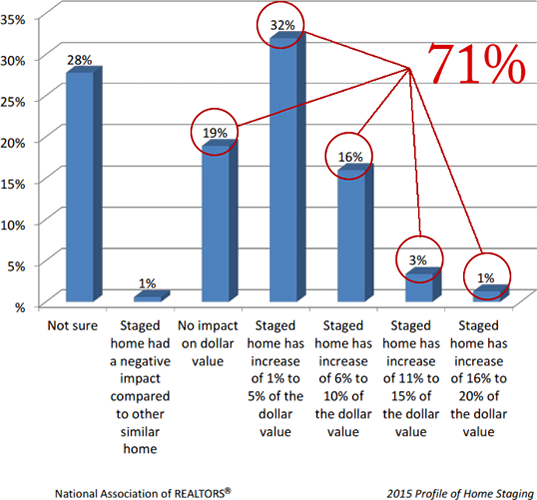 ---